netroots nation 2012
Did you miss the livestream? Watch the video here:
We are back at Netroots Nation! And this year we have more great coverage that you can follow on the blog, conversations you can join and topics where we need your voice to be heard. You can also follow live and join the discussion at Education Votes.
Lily will be part of the opening keynote.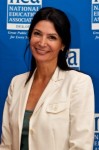 Netroots Nation will kick off with an opening keynote from New York's Attorney General and the man the American Prospect calls The Man Banks Fear Most, Eric Schneiderman.
Other speakers will include: Providence Mayor Angel Taveras, environmentalist Bill McKibben, Planned Parenthood's Cecile Richards, Congresswoman Tammy Baldwin and our very own, Lily Eskelsen.
Starts: Thursday, Jun. 7 7:00 PM
Ends: Thursday, Jun. 7 9:00 PM
Watch it live!

Whose Law Is It Anyway? ALEC's Influence on State Legislatures and What We Can Do About It
The American Legislative Exchange Council has been behind virtually every major right-wing state law in the past two years, including union-busting, teacher-bashing, voter suppression, attacks on immigrants, privatizing basic public services and gutting environmental and health regulations. Learn more about ALEC, who backs them and what you can do to stand in their way.
One of the panelists will be Kim Anderson who currently serves as Director of the Center for Advocacy at the National Education Association (NEA). In this role, Ms. Anderson oversees the organization's Collective Bargaining and Member Advocacy Department, Government Relations Department, and Human and Civil Rights Department. The Center is responsible for advancing the NEA's mission, vision, and core values through federal and intergovernmental advocacy, collective bargaining and representational advocacy, and social justice advocacy.
Starts: Thursday, Jun. 7 3:00 PM
Ends: Thursday, Jun. 7 4:15 PM
Watch it live!
(If you missed the livestream check back later to see the video)